Earn with Amazon Flex – As you all know, how big the e-Commerce market in India is, and how fastly it is growing in India. More and more users are coming online and ordering things online for their own convenience.
If you own a bike and have a valid Driving license then you can work part time with Amazon Flex and earn upto ₹16800/Monthly by Delivering Parcel in your area. Currently this service is open for Delhi, Mumbai, Bangalore, Hydrabad and Jaipur.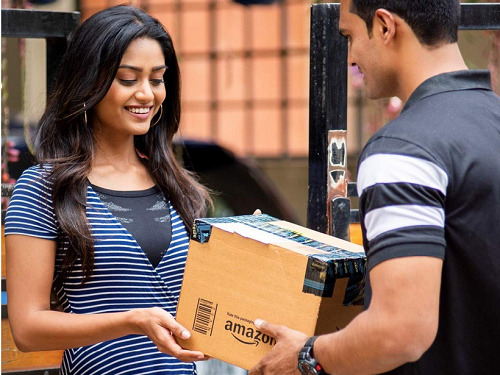 Soon this service might launch PAN Idea too- Fingers crossed. Apply for Amazon flex now and start earning.
With Amazon Flex you will be earning Rs.120 to Rs.140 Per Hour By Delivering Packages With Amazon Flex. The Flex app will give you all the required details you require to work for amazon.
What is Amazon Flex ?
Amazon Flex is a program where independent contractors, called delivery partners, deliver Amazon orders. Hundreds of millions of items are available through Amazon, including electronics, household essentials, and much more. Read full post below to understand more and how you can apply for it and start earning.
How to Earn with Amazon Flex ?
Firstly, You would require to download amazon flex app
Or Just Visit Amazon Flex Registration Page and enter your details
Enter Given Details in Asked Form and Click on Get The App Option.
Now download the app from your browser itself – As it is not available on Play Store (Go to Settings and then Security and then Turn on Unknown Sources to install Amazon Flex App)
Now Turn or your Device Location and Open the app > Sign Up Option
Sign up for Amazon Flex using your Amazon Account
Enter all the personal details asked by the app
Select a service area (PIN Code) where you will pick up and deliver Amazon packages.
You would require to accept their terms & conditions and provide the required ID Proofs they require in order to get you onboard
You have to Provide Tax and Payment Details to Receive Payments on Time.
Now Just wait for 5 to 10 business days to to check Your background by Amazon Flex India.
Also See- NearBuy- Get Cappuccino/Café Latte/Americano at CCD at Rs 50 only
FAQs –
You must be at least 18 years old.
Android phone of version 6.0 or higher with at least 2GB of RAM.
Device needs to have a camera with flash, GPS location services, and an active SIM with voice & data connectivity.
A two-wheeler that meets all applicable law and safety requirements.
PAN Number.
Savings or a Current Bank Account.
Amazon Flex Will Cover Accidental Death coverage of up to INR 5,00,000/- and Permanent Disability coverage up to INR 5,00,000 /-
More FAQ's About Amazon Flex By Watching Below Video