Flipkart Daily Trivia Todays Answers August 2020 : Flipkart Game Presents Daily Trivia, Flipkart will ask you 5 Simple GK Related Question which you need to answer. Playing this game will make you win Free Gems or More Exciting prizes on the Flipkart App.
We will update the answers of Flipkart Daily Trivia here, Just Bookmark this page & Visit Everyday at 12AM to check for the latest answers. Try daily, who knows one day you win some great prizes in Flipkart Daily Trivia!
Flipkart Trivia will ask you some GK related question & test your knowledge skill, They will give you 4 options in which you have to choose for 1 correct answer. If you don't know, then visit this page we will update the answer here on daily basis, so that you don't make any mistake!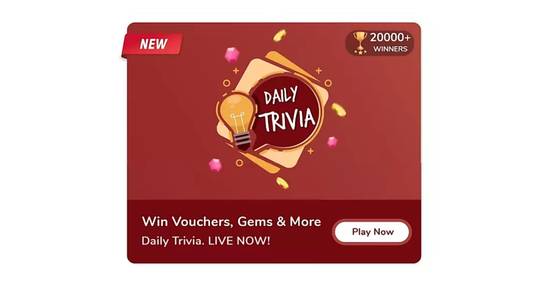 Also Check : OYO Q Quiz Answers : Shake & Win Paytm Cash Daily
Flipkart Daily Trivia Todays Answers- August 2020
Flipkart Daily Trivia Answer 5 August 2020 –
Rohit Shetty made his directorial debut with which 2003 film starring Ajay Devgn?
Zameen

Which actor is common to the films Rang De Basanti, Guru and 3 Idiots?
R. Madhavan

The lead actress of which film is a part of Bigg Boss Season 13?
Kaho Naa Pyaar Hai
4. SRK received the highest civilian honor of which of these countries in 2014?
France
Which actor featured in the Doordarshan serial 'Gul Gulshan Gulfaam' as a child actor?
Kunal Khemu
Flipkart Daily Trivia Answer 1 August 2020 –
Who has sung the hit songs 'Suit Suit' and 'Patola'?
Guru Randhawa

On whose gravestone would you find 772.5 inscribed, his calculation of heat?
James Joule

Who among these was a member of the winning Davis Cup teams in 2004, 2008, 2009, and 2011?
Rafael Nadal

Which country's "other national drink" is Irn-Bru, a carbonated soft drink?
Scotland

What day do we generally observe on the second Sunday of May?
Mother's Day
Flipkart Daily Trivia Answer 30 July 2020 –
Question 1 / 5
Who played the role of Malik Kafur in the film Padmaavat?
Jim Sarbh
Question 2 / 5
Starring Amitabh Bachchan, who directed the film Aks?
Rakeysh Mehra
Question 3 / 5
Which of these film franchises was rebooted in 2019 starring David Harbour?
Hellboy
Question 4 / 5
R Madhavan played the role of ____ in the Tanu Weds Manu series.
Manoj Sharma
Question 5 / 5
Which 2018 film begins with a dedication to Amrita Pritam, the Hindi poet?
Manmarziyaan
Flipkart Daily Trivia Answer 29 July 2020 –
Question 1 / 5
At 3,840 metres, Mount Saramati is the highest peak of which Indian state?
A. Nagaland
Question 2 / 5
Which Mughal emperor built the 'Shalimar Bagh' in Srinagar in 1619?
A. Jahangir
Question 3 / 5
Invented in 1924 in Mexico, Caesar Salad is named after
A. A Chef
Question 4 / 5
Who among these demons was killed by Lord Rama in Ramayana?
A. Dushan
Question 5 / 5
Reigning till 1912, who among these was the last Emperor of the Qing dynasty of China?
A. Pu Yi
Flipkart Daily Trivia Answer 28 July 2020 –
Question 1 / 5
Who is the 1st Indian to score a century in all three formats as an opener?
A. Rohit Sharma
Question 2 / 5
In baseball, the final base a base runner must touch to score a run is called what?
A. Home Plate
Question 3 / 5
Which Indian batsman holds the record of hitting the most sixes in a Test?
A.Rohit Sharma
Question 4 / 5
The Indian hockey team won its first Olymic gold medal in 1928 at which of these places?
A. Amsterdam
Question 5 / 5
Who is the first woman for India to score a century in a Women's Twenty20 International?
A. Harmanpreet Kaur
Flipkart Daily Trivia Answer 27 July 2020 –
Question 1. Which of these Is not one of the studio albums of Ed Sheeran?
Answer 1- Minus
Question 2. Who among these married an Austrian, Emilie Schenkl?
Answer 2- Subhas Chandra Bose
Question 3. The tomato frog, comet moth, fossa, and lemur are some animals endemic to?
Answer 3- Madagascar
Question 4. 1st woman lawyer to directly become a SC judge, lndu Malhotra studied at?
Answer 4- Lady Shri Ram
Question 5. Other than Bolivia, which is the only other landlocked country in South America?
Answer 5- Paraguay
Flipkart Daily Trivia Answer 26 July 2020 –
Question 1. Who recently became the 2nd Indian to hit a double century in a Test against South Africa?
Answer: Mayank Agarwal
Question 2. The play of which sport begins at a spot called the teeing area?
Answer: Golf
Question 3. Which Indian bowler is the joint fastest bowler to take 350 wickets in Tests?
Answer: Ravichandran Ashwin
Question 4. Bafana Bafana, Springboks and Proteus are nicknames of sports teams from
Answer: South Africa
Question 5. The youngest cricketer to take a hat-trick in T20I belongs to which country?
Answer: Pakistan
Flipkart Daily Trivia Answer 25 July 2020 –
If it is Gup chup in Odisha, what is it in Madhya Pradesh?
Fulki

Built in 2018, the world's largest bird sculpture is located in?
Kerala

Which explorer is recognised as first person to reach both poles?
Roald Amundsen

Which country has the most UNESCO World Heritage sites in Asia?
China

Which footballer appeared as himself in the film xXx: The return of Xander Cage?
Neymar Jr.
Flipkart Daily Trivia Answer 23 July 2020 –
Question 1. Born In Jalandhar, which slnger is popularly known as the "Prince of Bhangra"?
Answer 1- Sukhbir Singh
Question 2. In Game of Thrones, which character sits on the throne at the end of series?
Answer 2- Bran Stark
Question 3. which 2017 film was inspired by the story of Anita Bal Narre?
Answer 3- Toilet: Prem Katha Movie
Question 4. Which actress was born In pre-partition Punjab In 1930 as Harkirtan Kaur?
Answer 4- Geeta Bali
Question 5. In the film 'Argo', Ben Affleck's character rescues Americans from which country?
Answer 5- Iran
Flipkart Daily Trivia Answer 22 July 2020 –
Q. Sepp Blatter, Who is Currently Serving a Ban, is the former president of ______ ?
A. FIFA
Q. Who was the first player to hit 6 sixes in an over in ODI Cricket?
A. Herschelle Gibbs
Q. In which Sport did Ryan Giggs Play for Mumbai & Ronaldinho play for Goa?
A. Futsal
Q. Which of these EPL Clubs is currently not being managed by their former player?
A. Liverpool
Q. India reached No.1 in ICC Test Ranking for the first time under which captain?
A. MS Dhoni
Flipkart Daily Trivia Answer 21 July 2020 –
Question 1. Who played the role of Professor Sinha In the movie Mr. India?
Answer 1- Ashok Kumar
Question 2. Which Bollywood actor started the Paanl Foundation?
Answer 2- Aamir Khan
Question 3. which character from the series The Big Bang Theory goes to space?
Answer 3- Howard
Question 4. Stuntman and actor, Muddu Babu Shetty was the father of which Bollywood personality?
Answer 4- Rohit Shetty
Question 5. In the Toy Story series, who gives his voice for the character 'Buzz Lightyear'?
Answer 5- Tim Allen
Flipkart Daily Trivia Answer 20 July 2020 –
Who among these was a practicing lawyer in the Supreme Court of India?
Ans: Arun Jaitley

Anthony Bourdain, who passed away last year, was a famous
Ans: Chef

which government owned company owns a 51% stake in the state-owned IDBI Bank?
Ans: LIC

with which country is France's longest land border?
Ans: Brazil

In Hindu mythology, who among these is one of the saptarishis?
Ans: Vishvamitra
Flipkart Daily Trivia Answer 19 July 2020 –
Which Premier League club did Sir Alex Ferguson manage for 26 years?
Ans: Manchester United

Yelena Isinbayeva has numerous world records in which Olympic event?
Ans: Pole Vault

Which of these is NOT a kind of delivery bowled by an off-spinner?
Ans: Pehla

In 2012, who was presented a jersey number 963 by Manchester United?
Ans: Usain Bolt

Who was the first Indian woman to become a Grand Master in Chess?
Ans: S Vijayalakshmi
Flipkart Daily Trivia Answer 17 July 2020 –
1.The English name for which vegetable comes from the Aztec 'xitomatl'?
Tomato
2.The Mercalli scale measures destruction caused by an ___ on a scale of 1 to 12.
Earthquake
3.Sonia Gandhi succeeded whom as the INC President in 1998?
Sitaram Kesri
4.Which Mughal emperor's birth name was Muhi-ud-Din Muhammad?
Aurangzeb
5.The name of which of these Saudi Arabian cities literally means 'city'?
Medina
How to Play Flipkart Daily Trivia ?
Visit Flipkart Games from your Mobile (Use below link)
Scroll down & Tap on Daily Trivia Game
Click on Start the Game & Play
Answer Correctly for each question Asked (5 Ques)
If all of your answer were correct, you will win Assured Prizes (Mostly Flipkart Gems)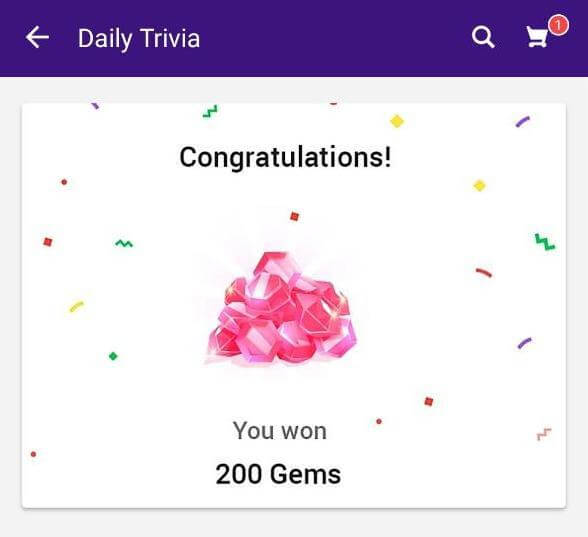 Redeeming Gems in Flipkart App?
Once you have earned Enough Gems, i.e., 10,000 Gems you can claim 100 Supercoins in exchange of these gems. In order to convert follow below steps:
Goto Flipkart Games Tab
Tap on Gems icon (where gem amount is mentioned)
Now Click on Redeem Option & Convert 10,000 Gems into 100 Supercoins
Now you can Use Supercoins to buy products or Claim offers on Flipkart!