BHIM Axis Pay- Get Upto Rs 750 on UPI Money Transfers (Loot)
BHIM Axis Pay- Get Upto Rs 750 on UPI Money Transfers (Loot)- Axis Pay is a UPI App with which you can send or receive money securely and instantly with just your name.Axis Pay UPI App, an easy to use app with which you can link any bank account to send or receive payments instantly and securely, with just your name. Be it the fee for your child's tuition, payment to a wedding decorator or that contractor who needs to be paid for your house's renovation,UPI App ensures that life must go on.
Get Get Upto Rs 750 Cashback per month by making Debit transactions through UPI through Axis Pay App. You don't need to have Axis bank account, You can register with any mobile number & any bank you are operating with currently. Grab this offer now!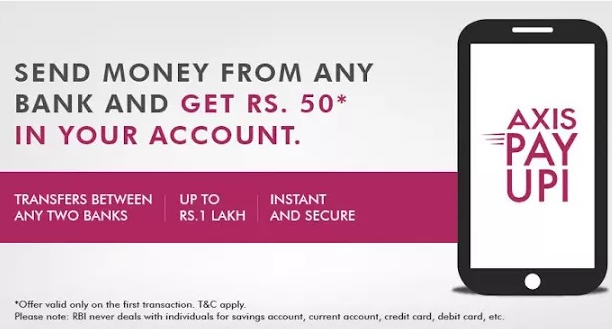 UPI stands for Unified Payments Interface (UPI) which is platform provided by NPCI to facilitate interoperability among various banks. It's a one stop solution for multiple bank account , one app. It allows all account holders to send and receive money using their smartphones with a single identifier – virtual payments address – without entering any bank account information. Therefore, customers do not need to know the payee's or payer's IFSC code, bank account details, etc. and this makes the process simpler.
Allow the app to send an auto message
Now Enter your Personal details (Name, etc)
Choose a 6 digit Passcode for security
Once all done! Click on Send Option
Choose / add your bank account
Set a 6 digit M-PIN for UPI Service
Now Enter whom you want to send money (Any friend)
Enter their VPA Address (@UPI, @ybl, @hdfcbank, @axisbank, etc)
Send money & Keep repeating the process to earn more.
Incentive 1: Incentive for Unique Transactions
Incentive of Rs 25 per unique transaction* with Minimum transaction value of Rs 100 per transaction
Incentive applicable for a Maximum of 20 transactions in a month
Potential to earn incentive up to Rs 500 (Rs 25 x 20 transactions) in a month
*Unique transaction refers to making debit transactions to unique users (both other users or merchants) via Send Money, Scan QR, Intent, Collect Money etc
Incentive 2: Incentive on the Number of Transactions
Incentive can vary from Rs 100 to Rs 250 in a month

If Number of transcations in a calendar month >=25 but < 50; Incentive = Rs 100
If Number of transactions in a calendar month >=50 but < 100; Incentive = Rs 200
If Number of transactions in a calendar month >=100; Incentive = Rs 250

Minimum transaction value is Rs 10 per transaction
Potential to earn up to Rs 250 in a month
Note:
This Incentive Scheme is being run by MEITY and is fulfilled by MEITY in collaboration with NPCI
This Offer is common & applicable for BHIM App & BHIM UPI Apps. In case of a single user using BHIM App and any other BHIM UPI App of any Bank with same credentials (Mobile Number & A/C No + IFSC), the Incentive shall be paid to the customer by combining transactions done from both the apps (if the user qualifies). BHIM Axis Pay UPI App is one of the BHIM UPI Apps
Incentive shall be calculated and processed per calendar month and shall be paid to the customer by 10th of every month for the previous month
Please click here for Detailed Terms & Conditions
Offer valid up to March 31,2019 | Source- CLICK HERE