Google Pay BookMyShow Scratch Card Offer
Google Pay BookMyShow Scratch Card Offer- About Google Pay UPI – Tez UPI is app is unified payment interface app just like BHIM app launched by Google, which allows the user to send and receive money from directly your bank account. Moreover, Tez is celebrating its anniversary & giving assured prizes to their users.
Transact for Rs 300 or more and win rewards up to Rs 300 with Google Pay on Bookmyshow. Now you can pay using google pay on Bookmyshow and earn free scratch card!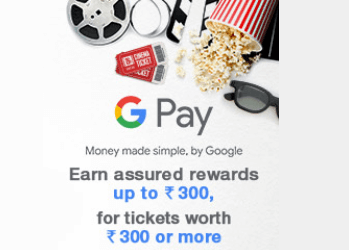 Offer

Overview

:–
Reward: Scratch card of a random value between Rs 30 to 300
Min Amount- Rs 300
Max Winning Amount: ₹30 to ₹300 (Mon-Thu) | ₹50 to ₹300 (Fri-Sun)
Mode of redemption: The amount you win on Tez will be sent to your bank instantly
Valid Upto- 31-Dec-2018 23:59
Quota- Once per user per month
Getting Started with

Tez
Download/Update Google Tez App Now
Verify your Mobile number & Sim Card
Add your Bank account to Tez
Goto upper 3 dots > Refer > Enter below refer code
REFERRAL CODE – 94r46d
Now Do your First UPI Transaction to earn Rs 51 Bonus
That's it! Your Tez is now ready to use
How to avail the

Offer

?
Visit Bookmyshow from below link
Go through the regular ticketing flow for selecting the movie, cinema and show of your choice
P.S. Please ensure that Google Pay application is installed on your mobile
Proceed to review screen & click on "More Payment options"
Click on UPI & enter your Google Pay Virtual Payment address (VPA)
You will receive a payment request from Google Pay. Open your Google pay mobile application
Click on BookMyShow icon and approve the payment request
Complete the UPI Payment through Google Pay app & That's it!
Your Payment would be done instantly
Voila! You will get the scratch Coupon in '

Rewards

' Section of your Tez app
Scratch the received card and check what prize you won?
Terms & Conditions?
You must successfully complete a single transaction worth at least Indian Rupees Three Hundred (INR 300) on the BookMyShow app or BookMyShow website using Google Pay.
On Android, select Google Pay as the payment option on the BookMyShow app.
On iOS, enter your Google Pay UPI ID (USER'S UNIQUE UPI ID) as the payment option on the BookMyShow app.
Each Google Pay Customer can only use one set of Google Pay credentials, which includes but is not limited to a Google Account, phone number, and form of payment, to qualify for each offer.
You can earn a maximum of one reward per month for this offer during the offer period.
For successful transactions worth at least Indian Rupees Three Hundred (INR 300) made Monday to Thursday (IST), you are eligible to earn a scratch card reward worth Indian Rupees Thirty (30) to Indian Rupees Three Hundred (INR 300).
For successful transactions worth at least Indian Rupees Three Hundred (INR 300) made Friday to Sunday (IST), you are eligible to earn a scratch card reward worth Indian Rupees Fifty (50) to up to Indian Rupees Three Hundred (INR 300).
You can earn up to a total of Indian Rupees Nine Thousand (INR 9,000) per financial year (1 April to 31 March) across all Google Pay offers.
If you earn a reward, your reward money will be deposited into your bank account. As such, you must have a UPI-enabled savings account attached to your Google Pay account to receive payment from Google.
By accepting a reward, you agree that Google may use your name and image for advertising and promotional purposes, without additional consent from or compensation to you.
Employees, interns, contractors, and office-holders, as well as their immediate families (parents, siblings, children, spouses, and life partners of each, regardless of where they live), of Google LLC, its affiliates and subsidiaries, and any representatives or agencies of Google or other persons professionally connected with the offer are not eligible to participate.
This offer is not available to the residents of the state of Tamil Nadu (as per Tamil Nadu Prize Scheme (Prohibition) Act 1979) and wherever else prohibited by Law. Residents of these States should not participate in this offer.
To participate in a Google Pay offer, you must agree to these offer terms and conditions.
You agree that your participation in the offer constitutes your understanding of and agreement to these offer terms and conditions. These offer terms and conditions form a binding legal agreement between you and Google with respect to the offers, and any defined terms used herein have the meaning set forth in the Google Pay Terms of Service.
Google reserves the right, at its sole discretion, to disqualify any User who does not meet the offer requirements or in case of reasons including but not limited to any misuse of the offer or fraud or suspicious transactions/activities. Google also reserves the right to discontinue or change any Google Pay offer or the Google Pay offer programme at any time, at its sole discretion.
This offer is subject to your compliance with the Google Pay Terms of Service
Bigtree terms & Conditions :
To avail this offer, customers can transact during any day

of

the week
This offer is valid only for users coming directly to the website or mobile app and not via individual cinema sites
The customer will have to pay internet handling fee as levied on each ticket
This offer cannot be combined with any other offer/discount/promotion on BookMyShow
Offer is valid on all tickets booked on the website and mobile app, including movies/events/sports/plays etc
Tickets once bought on BookMyshow, shall be considered sold and cannot be cancelled, refunded or exchanged
Once the booking is committed, the confirmation mail/SMS received from BookMyShow needs to be exchanged with the ticket available at the theatre
Bigtree & Google Pay reserve the right to disqualify any cardholder from the benefits of the program. If case of any fraudulent activity, prosecution will be carried according to the purpose of availing the benefits under the program
Bigtree & Google Pay reserves the right to modify/change all or any of the terms applicable to the program without assigning any reasons or without any prior intimation whatsoever
Bigtree & Google Pay also reserves the right to discontinue the Program without assigning any reasons or without any prior intimation whatsoever
Individual Cinema rules applicable
In addition to the above, this offer is also subject to BookMyShow's general Terms of Use. Kindly refer to BookMyShow's Terms & Conditions on the homepage
In case of any disputes, Bigtree's decision will be final
Source- Click here