Drools Free Sample – Drools is a well know-ed Pet food brand that offers Cat and Dog food. Now you can get a free sample of it. If you have dogs or cat at home then well and good, Otherwise order free sample and feed stray-dogs outside your home/colony.
Order Drools free sample now for your Cat/dog free of cost. Join our Telegram channel to stay connected with such loots forever- A2Yoffcial on Telegram
Previously we have shared many such free samples loot such as Lybrate Horlicks Ceregrow Free Sample and Indica Hair color sample, Stay tuned for more such loots only on A2Y
About Drools:
Drools Realize Your love  For Pets And The Importance Of A Healthy And Nutritious Diet For Them. Therefore, There Team Of Nutritionists And Veterinarians From The USA. It Has Ensured And Created A Food Of Superior Quality, Specific To The Growing Needs Of Pets.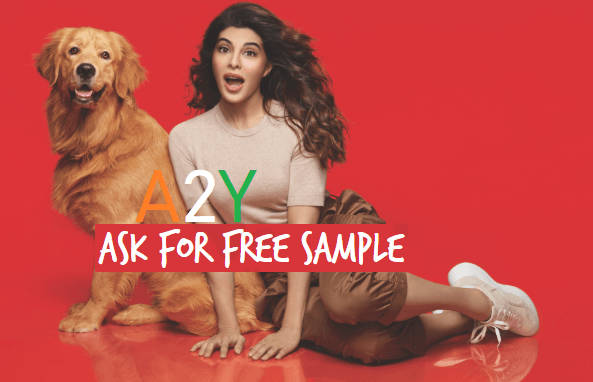 How to Order Drools Free Sample at Home ?
Firstly, Visit below Drools Official Website
Scroll down and you will see a form below
Select your Pet Category – DOG OR CAT
Then Select your Dog Breed (Must)
Eg: Labrador Retriever, Siberian Husky, Pug, Poodle, Beagle, German Shepherd, Samoyed & Etc
If Selected Cat, then choose Cat Breed
Eg: Exotic Shorthair, Balinese cat, Bombay Cat Ragdoll, American Bobtail, Persian cat, Siamese Cat, Maine Coon. 
Now Enter Your Dog/Cat Age:
DOG – 1 to 13 years
CAT – 1 to 16 years
Now Enter Your Cat/Dog Current Food (What you are giving)
Dog's Current Food – Pedigree, Arden Grange, Royal Canin, Farmina's Chibau, Farmina's Chibau, Drools
Cat's Current Food – Meat Up Adult, Purepet Adult, Whiskas Wet, Drools, Sheba
Now fill your own Details such as First Name, Last Name, Mobile Number, Email, Address, City, Pincode, State & Submit.
That's it! You will get the free sample delivered at your doorstep free of cost (No Delivery Charges)