Flipkart Prebook Sale Offers & Deals
Flipkart Prebook Sale Offers & Deals, Flipkart Prebook Sale 2020: India's Biggest Shopping Sale is back again – Flipkart's "The Big Billion Days". Flipkart has started prebooking of some products, Kindly check all deals & Compare prices and buy the products. Many products are available at lower prices than BBD Sale Price. So don't wait for the sale to begin, Grab the deals Now!
Best Deals on Each product listed on Flipkart with amazing jaw dropping offers. This Time it will be Bigger than Big Sale. Checkout full posts to get to know about all the major offers & deals!
Prebook sale is valid from 11th to 14th October, 2020. Flipkart's Big Billion Days 2020 is back from 16th to 21st October'20. Upto 99% Discount on Products were given. Now its time for another Big Billion Day!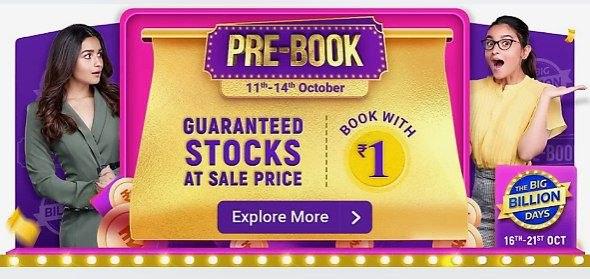 How to Prebook Products ?
Visit Prebook Sale Page | Or Handpicked Deals from below
Just Pay Re.1 using any prepaid mode (Gift card, UPI, Paytm, Card, Pay Later, Etc)
Rest you can pay later after 16th Oct (You may cancel order anytime)
If you fail to pay the remaining amount your order will be cancelled
Rest amount you can pay via COD/Prepaid methods also!
Enjoy the deal !!
Also See : Flipkart Big Billion Days Offers & Deals: Biggest Sale (16-21st Oct)
Scroll Down & Check deals before they Goes OUT OF STOCK. Hurry UP!!
Handpicked Deals:
• Prebook – Realme Band ₹999: https://bit.ly/3jK5613
• 💖 loot: Dabur Sanitizer 450ml ₹90 : https://bit.ly/33NRKLR
• 💖 Grab fast: Mi Trimmer ₹899 : https://bit.ly/3dk3F6U
• Prebook – Mi Smart band 3i ₹999 : https://bit.ly/3lA3oQp
Bags & Wallets –
• 💖 Minimum 80 Off Bags : https://bit.ly/2SH6uWk
• Provogue Suitcase at 82% Off : https://bit.ly/2Ie1577
• Wildcraft Backpacks At 82% Off : https://bit.ly/3devrC1
• Branded – Lavie backpack from ₹203 : https://bit.ly/3dfFxTf
• Tommy Hilfiger backpacks from ₹428 : https://bit.ly/3iLm5yQ
• 💖Big Brands – Wallets & Belts from ₹299 : https://bit.ly/30Slh4W
Kitchen essentials –
• Prebook: Pigeon Cooktop at ₹1286 : https://bit.ly/33Kpd9S
• Butterfly Cookware Sets from ₹659 : https://bit.ly/3nGyzew
• Pigeon Pack 2L,3L,5L Pressure Cooker from ₹1220 : https://bit.ly/30Vlq7N
• Pressure Cooker Starts ₹321 : https://bit.ly/2FhHZMe
• Butterfly 500 W Mixer Grinder (3 Jars) @ Rs 1439 : https://bit.ly/3nGRFBh
• Singer Glass Manual Gas Stove (3 Burners) ₹1847 : https://bit.ly/34GlObk
• Prebook : Induction cooktops from ₹1184 : https://bit.ly/3lFDIC5
• Prebook : Mixer grinders from ₹1039 : https://bit.ly/3jQirVw
• Prebook : Eclectic kettles from ₹478 : https://bit.ly/3iItbnG
• Prebook : Irons from ₹375 : https://bit.ly/2Fpf4Gk
• Prebook : Gas stoves from ₹999 : https://bit.ly/2GP2LDE
• 💖 Cello Mop sets ₹692 : https://bit.ly/33NdyqC
Smartwatches & Personal Care –
• Gionee Watch 5 Smartwatch ₹1799 : https://bit.ly/3jTPTKU
• Realme Smartwatch at ₹2999 : https://bit.ly/3nDIIJ7
• Prebook : Smartwatches/Smartbands : https://bit.ly/3lrCSbM
• Huami Amazfit Bip Smartwatch ₹4792 : https://bit.ly/2SJyWqB
• Nova Hair dryer ₹299 : https://bit.ly/30TXlOM
• Prebook : Trimmers from ₹389 : https://bit.ly/30RG1K0
Earphones / Speakers & Home theaters –
• Infinity by JBL Headphones from ₹349 : https://bit.ly/3lwNupS
• Boult Audio Headphones from ₹299 : https://bit.ly/2SGZetH
• 💖 Motorola escape Bluetooth headset ₹899 : https://bit.ly/2GYHrM0
• 💖 Mivi True wireless earbuds ₹899 : https://bit.ly/30UrLQU
• Boult Audio Air Bass Muse Buds ₹1299 : https://bit.ly/30UHrDC
• Prebook : Philips Soundbars/Home theaters : https://bit.ly/2IfFkUt
• Intex Portable Home Theatre (4.1 Channel) ₹1499 : https://bit.ly/36URPir
• Ant Audio Bluetooth Speaker ₹799 : https://bit.ly/3nxsFwi
• boAt PartyPal 20 15 W Bluetooth Party Speaker ₹1499 : https://bit.ly/3iLg70L
Watches –
• Timex watches from ₹398 : https://bit.ly/34NTNPj
• Daniel Klein watches 80% off : https://bit.ly/2SKhzWG
• 💖 Fossil watches from ₹2848 : https://bit.ly/36T61IX
• Michael Kors Wrist Watches 70% or more : https://bit.ly/3divKeR
• U.S. POLO ASSN Watches from ₹1074 : https://bit.ly/3jOzqYh
• Provogue Men's Wrist Watches Starts ₹467 : https://bit.ly/3jOzsPT
Footwears –
• Footwears at 80% Off : https://bit.ly/3dhvr41
• Adidas Shoes at 80% Off : https://bit.ly/2GTwLy8
• 🔥 LOOT : Asics/PUMA footwear from ₹799 : https://bit.ly/36ZopQB
• 💖 Premium brands shoes Upto 90% off : https://dealurl.in/5qem
• 💖 BATA Formal shoes from ₹405 : https://bit.ly/2GKaq6c
Fashion & cloths –
• 💖 (Pack of 3) Full Sleeve T-shirts for men ₹399 : https://bit.ly/3lAvRp4
• Men's Jeans from ₹378 : https://bit.ly/34JrKQV
• 💖 Big Loot At 85% Off Men's Jackets : https://bit.ly/3nBEmC6
• Min 80% Off On Top Brand Men's Clothing : https://bit.ly/2GLlEHL
• 75% Off On Raymond, Park Avenue & Arrow Suits : https://bit.ly/36RBds3
• Arrow suit & blazers from ₹2999 : https://bit.ly/34JJFHg
• 💖 LOOT : Men's Sweatshirts @ Rs 299 : https://bit.ly/34KEIh9
• Carlton London Women's Flats Starts Rs.259 : https://bit.ly/3lAAPSR
• Upto 90% Off On Dressberry Women's Clothing. : https://bit.ly/30Q7MTy
• 💖 LOOT : women's Jackets at 85% Off : https://bit.ly/2SKKfyE
• Flying Machine Women's Jacket 86% off : https://bit.ly/2SH1cKj
• 💖 Women's Diana Korr Handbag from ₹292 : https://bit.ly/30VM94a
Electronics –
• LOOT: Smart LED BULBs from ₹199 : https://bit.ly/30UrNIw
• Flipkart smartbuy power banks from ₹399 : https://bit.ly/34IcZxS
• Prebook : Wireless Keyboard & Mouse Combo ₹799 : https://bit.ly/3nxsHEq
• Memory cards/Pen drives from ₹209 : https://bit.ly/3lyQS3x
Appliances –
• Marq By Flipkart Washing Machines from ₹5490 : https://bit.ly/30TdAvr
• Midea 1.5 Ton 3 Star Split Inverter AC @ ₹24249 : https://bit.ly/3jPkB7M
• [ Prepaid offer ] Onida Refrigerators @ Rs 8999 : https://bit.ly/2SFTfW1
(Pay with credit/debit card get extra ₹500 discount)
Note:- These deals have been listed by @A2YDeals Telegram channel
Don't forget to share with your friends & Family. Thank You so much Guys
Telegram Link : https://telegram.me/A2YDeals